Our Response to Coronavirus
and Your Safety
The health and safety of our guests, employees, and fellow island residents remains is our top priority in 2021. Our team has taken a variety of steps to ensure industry leading safety measures are implemented across the resort. All employees are required to wear a mask for your safety. All guests, vaccinated or not, have the option to wear a mask indoors. Our Mission Point CARES Cleanliness Plan is a transparent compilation of all protocols in place to assure our guests that Mission Point is your trusted family resort. Our plan was developed based on recommendations from the Centers for Disease Control and Prevention (CDC), World Health Organization (WHO), state and local health officials and with the guidance from industry leaders including the American Hotel & Lodging Association, the Michigan Restaurant & Lodging Association and the U.S. Travel Association.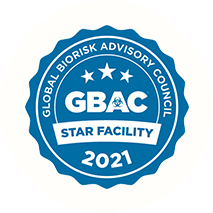 Global Cleanliness Facility Accreditation
Mission Point is proud to be the first GBAC STAR accredited property on Mackinac Island! For those unfamiliar, Global Biorisk Advisory Council (GBAC) is a division of ISSA, the worldwide cleaning association, that helps organizations establish and implement cleaning protocols and procedures for disinfection and infectious disease prevention.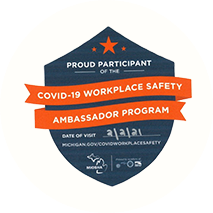 MIOSHA Workplace Safety Ambassadors
As a MIOSHA (Michigan's Occupational Safety and Health Administration) COVID-19 workplace safety ambassador, Mission Point welcomed one-on-one guidance and education from the state to help us understand all regulations on workplace safety amidst a pandemic. We submitted ourselves to a safety evaluation and passed - achieving ambassador status!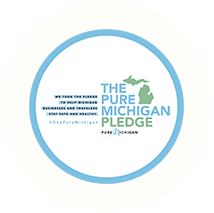 Pure Michigan Pledge
The Pure Michigan Pledge guidelines were developed with input from more than 350 tourism industry professionals across the state and outline seven steps businesses in the travel industry will take to ensure a safe environment for travelers. By taking the Pure Michigan Pledge, Mission Point is committed to upholding local safety protocols and CDC travel guidelines so that all can continue to travel safely this season and beyond.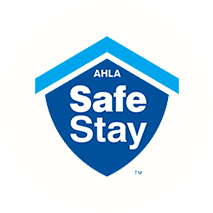 affiliations and accreditations
Mission Point is proud to join American Hotel and Lodging Association's #SafeStay initiative by enhancing hotel cleaning practices and workplace protocols to help guests and employees feel confident during post-pandemic travel
Restaurants & Food Safety
All Mission Point restaurants will be offering carry-out options and additional outdoor seating for the 2021 season.
Service stations, beverage stations, counters, and handrails will be sanitized at least once per hour
Dining tables, bar tops, stools, and chairs will be sanitized after each use
Touchless transactions will be utilized whenever possible