Best Rate Guarantee
Book Now
Our Response To Coronavirus

And Your Safety This Season

The health and safety of our guests, employees, and fellow island residents remains is our top priority in 2022. Our team has taken a variety of steps to ensure industry-leading safety measures are implemented across the resort. Our Mission Point CARES Cleanliness Plan is a transparent compilation of all protocols in place to assure our guests that Mission Point is your trusted family resort. Our plan was developed based on recommendations from the Centers for Disease Control and Prevention (CDC), World Health Organization (WHO), state and local health officials, and with the guidance from industry leaders including the American Hotel & Lodging Association, the Michigan Restaurant & Lodging Association, and the U.S. Travel Association.

We look forward to welcoming you back to Mackinac Island. We'll be here when you're ready. Until then, stay safe and stay healthy. See you soon!

Masks are required in all public areas at Mission Point Resort.
Staff Safety
Protocols
Appropriate personal protective equipment will be provided to all employees and daily wellness checks will be administered
Guest Room
Care
Rooms will be deep cleaned with ECOLAB products after each stay
Social
Distancing
Guests will be advised to practice physical distancing by standing at least six feet away from other groups of people not traveling with them at all times
High-Touch
Objects
The frequency of cleaning and sanitizing will be increased in all public spaces with an emphasis on frequent contact surfaces
Take-Out and
Delivery
Take out or room service, including drinks to go, will be available from all outlets - perfect for a lakeside picnic
Dedicated
Team
All team members will be trained in industry-leading health and sanitation practices to ensure safe guest experiences
Resort Cleanliness
Hand sanitizer dispensers will be placed at key guest and employee entrances and contact areas.
Signage will be posted throughout the property to remind guests to maintain social distancing.
Front Desk transactions will be touchless when possible
Cleaning and sanitizing will be increased in all public spaces with emphasis on frequent contact surfaces including the bell stand, elevators and buttons, door handles, public bathrooms, room keys and locks, ATM, etc.
Furniture will be rearranged, where necessary, to allow for more space
Global Cleanliness Facility Accreditation
Mission Point is proud to be the first GBAC STAR accredited property on Mackinac Island! For those unfamiliar, Global Biorisk Advisory Council (GBAC) is a division of ISSA, the worldwide cleaning association, that helps organizations establish and implement cleaning protocols and procedures for disinfection and infectious disease prevention.
MIOSHA Workplace Safety Ambassadors
As a MIOSHA (Michigan's Occupational Safety and Health Administration) COVID-19 workplace safety ambassador, Mission Point welcomed one-on-one guidance and education from the state to help us understand all regulations on workplace safety amidst a pandemic. We submitted ourselves to a safety evaluation and passed - achieving ambassador status!
Pure Michigan Pledge
The Pure Michigan Pledge guidelines were developed with input from more than 350 tourism industry professionals across the state and outline seven steps businesses in the travel industry will take to ensure a safe environment for travelers. By taking the Pure Michigan Pledge, Mission Point is committed to upholding local safety protocols and CDC travel guidelines so that all can continue to travel safely this season and beyond.
American Hotel & Lodging Association #SafeStay Accreditation
Mission Point is proud to join American Hotel and Lodging Association's #SafeStay initiative by enhancing hotel cleaning practices and workplace protocols to help guests and employees feel confident during post-pandemic travel.
Restaurants & Food Safety
All staff will be wearing appropriate PPE
Touchless transactions will be utilized whenever possible
Dining tables, bar tops, stools, and chairs will be sanitized after each use
Service stations, beverage stations, counters, and handrails will be sanitized at least once per hour
All buffet and self-serve style events will suspended until further notice
Restaurants and bars will reduce seating capacities to allow for social distancing between each seated group/party's chairs in accordance with government regulations
Check presenters, pens, trays, and all other reusable guest contact items will be sanitized after each use
Menus, placed in plastic covers, will be sanitized after each use.
Safety Precautions

Activities

All bikes, helmets, burleys, will be sanitized after each use. All golf equipment will be sanitized after each use and starting times between groups will be spaced out to allow for social distancing. Guests will be advised to practice social distancing when playing lawn games such as cornhole, croquet, bocce ball and kite flying. Adirondack chairs on the Great Lawn will be spaced apart to allow for appropriate social distancing between guests and sanitized regularly.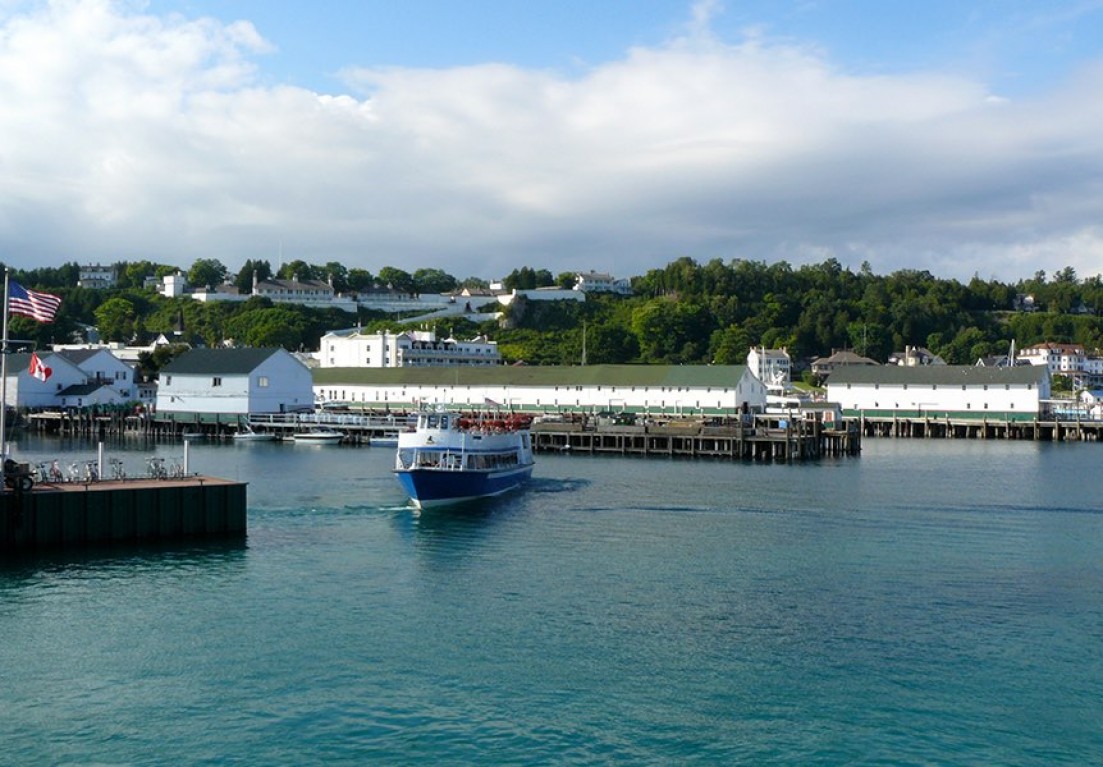 Safety Precautions

Mackinac Island Travel

Travel to, from, and around Mackinac Island will look a little different this season as we all work hard to ensure your safe visit to our unique island. You can expect to see ferry and taxi capacities limited per ride and social distancing encouraged throughout. Please visit each of the following websites to learn of updated coronavirus practices and procedures prior to your arrival:
Safety Precautions

Meeting Spaces

Seating capacities and floor plans to be reviewed on an event by event basis to ensure appropriate physical distancing that follows CDC guidelines. Doors, tables, chairs, light switches, and other equipment will be sanitizer after each group use.
Safety Precautions

Lakeside Salon & Spa

Each team member will sanitize their space, wash their hands, and replace gloves between guests and services. Tools will be cleaned with 70% alcohol and/or barbicide and guest locker room facilities and waiting areas will be closed.